The insurance industry predates Christopher Columbus and has, for centuries, operated a largely paper-based business. Like many old, successful companies, insurance companies have seen little need for change. Even with the technology boom and the digital disruption of the new century, insurance companies have been home to a disproportionate number of "digital deniers" who held tightly to their mainframes and watched their technical debt grow.
Today, with mobile-oriented millennials as their new target customers, insurers are forced to rethink their processes and their commitment to customer experience. To jumpstart the digital journey, many insurance companies have leaned on outsourcing providers that can underwrite the solution and drive improvements in customer experience and cost reductions in insurance and back-office operations.
The impact of COVID-19 on the workplace has again emphasized the need for insurance companies to make the leap into the new digital world. As claims, sales and underwriting have all moved to remote working models, companies that have already adopted digital processes have experienced minimal disruption. Those that are not digitally enabled have struggled.
The Digital Boon
Of course, technology has changed drastically over the last five years. Robotic process automation (RPA), artificial intelligence (AI), the internet of things (IoT), and drones are turning insurance back-offices that once counted on people using automation to process insurance transactions into workplaces where automation uses people to do the processing. Some companies that have embraced digital technology have been successful in shrinking the manual processing burden from 80 percent to 25 percent.
In the not-too-distant past, a customer would buy an insurance policy from a salesman at their kitchen table. But, today, the same purchase can happen with a few keystrokes on your mobile phone or PC. A traveler can purchase insurance policy at a click of a button just before boarding a flight. Crowdsourcing websites list insurance options, price comparisons and reviews. Insurance sales are now generated through social media and websites, and most of these sales are made without any human interaction from the insurer.
This means a modern insurance company must implement solutions that ensure seamless interactions across multiple channels, integrate data across front and back offices, analyze the data to predict additional customer needs and enable agents to provide exceptional customer experience to elevate brand loyalty and customer retention scores.
A New Approach to Customer Service
Needless to say, the expectations of customers have changed – and customer service must change with them. In the past, if a customer needed to update their address, they would send a letter with a copy of their driver's license to request the change. To process all the paperwork, an insurer needed at least a week to complete the update. Today, insurers can deploy multiple options that leverage automation to make these kinds of changes without human intervention. Companies can use a web portal that allows a customer to update their address online, e-mail or chat that uses a mix of natural language processing and machine learning to convert unstructured information into digital data to make the update, or a contact center that leverages robots to help live agents find customer data and make the change.
Complex processes like insurance claims in property and casualty also have become touchless. Customers who need to make an auto claim can upload an image of their damaged vehicle through channels like WhatsApp messenger and send it to insurers that measure the intensity of damage virtually and suggest claim amounts. Drones are sent to calamity-struck areas to take pictures from various angles and feed live images to assessors who can process claims instantly. This dramatically speeds payment to customers when they need it the most, and it significantly increases the number of claims an inspector can conduct, from two or three a day to nine or ten a day.
The adoption of IoT capabilities also has been growing in insurance. IoT is a system of interrelated computing devices, mechanical and digital machines, objects, or people that are provided with unique identifiers and that can transfer data over a network without requiring human-to-human or human-to-computer interaction. Insurers are finding that its use helps drive down the number of claims and increases safety. Telematics, for example, are being used by auto insurers in vehicles and mobile apps to change driving habits. Home sensors can provide gas and radon leak detection and send alerts to both the homeowner and the insurer, and personal wearables are giving health insurers a way to reward customers for healthy lifestyle choices, which also reduces the number of claims.
While the technology that is serving the insurance industry might be "digitally enabled," many insurance products and related processes are not "regulatory enabled." In other words, regulators may not allow certain processes to be digitally automated. U.S. regulatory agencies tend to have different requirements by state, and some still require a live or wet signature vs. an electronic one (especially for tax elections on withholding). Some still require paper (e.g. copy of an original death certificate or an original marriage certificate). Insurers need to make sure their legal teams review the new technology-enabled processes and that they comply with regulatory requirements.
What Insurers Need on the Digital Transformation Journey
With changing needs and evolving expectations in the market, insurers are expanding the scope of their sourcing relationships and leveraging providers to bring transformative tools as part of their solution. In the ISG Provider Lens Insurance Report, we found four "buyer archetypes," as pictured in the graphic here, are prevalent in the market.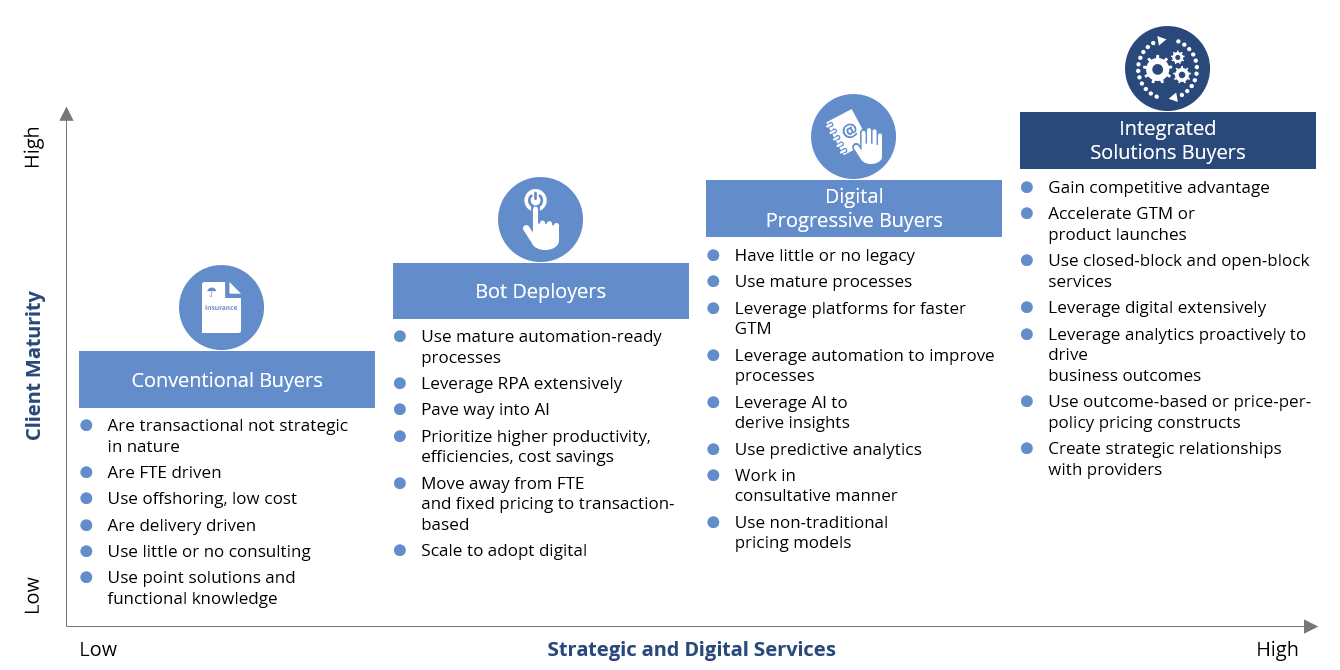 Figure 1: Insurance Buyer Archetypes
Note that even "Conventional Buyers," which still operate in a lift-and-shift model by outsourcing noncritical functions, are looking to embrace technology. RPA is most often the first step on the transformation journey for these buyers.
Both buyer archetypes referred to in the graphic as "Bot Deployers" and "Digitally Progressive Buyers" are more mature in their technology-adoption journey and are more inclined to move away from legacy technology and embrace automation to gain a competitive edge in the market.
"Integrated Solutions Buyers," as referred to in the graphic, are either digital-native companies or highly mature insurance companies that are hoping to do more than offshore a few functions to gain cost advantage. They are wanting to transform their businesses from mainframe to fully digital in one giant leap. This is typically a top-down-driven approach that expects sourcing partners to be more strategic and visionary. These enterprises are looking for partners to help fund their transformation and drive future business in the most efficient way while improving the customer experience.
The different buyer archetypes require different outsourcing providers. There is formidable change happening in the insurance industry – let ISG help you move through a complex technology market and come out ahead. Contact us to find out how we can help.